Old n fat movies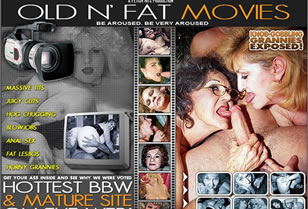 We swung into check this site out for this review and couldn't help but spend a little extra time browsing and enjoying—there was just too much to look at quickly. But let's start with tone and theme of the site and how it lives up to its imaginative title: Old 'N Fat Movies.
As you guessed, the women on this site are mostly Old "n Fat, though more often than not they are only old. Still, the models here all have something very natural and legitimate about them, from their 50-something, 100% natural bodies to the way they behave on camera, its clear that OldnFatMovies.com is bringing you the real deal. These horny mature sluts could very well be your next door neighbors.
Now, imagine every variety of mature 40-60-something slut you can doing the nastiest, wildest and most uninhibited fucking with men half their age. Do it again and again, and you might start to approach the sheer number of videos and photo galleries that OldNFatMovies.com has to offer you. At the time of our review this site hosted and incredible 835+ photo galleries, each set with 60-80 pics each. That's thousands and thousands of hot mature porn photos for you to enjoy, and all of them are pretty damn good quality, too.
You might think that this was a photo-only site, considering the volume of material they have, but you'd be wrong. You're also going to enjoy 650+ videos that are running around 30 minutes each. The action in these high quality videos ranges widely. You're sure to find whatever your hunting for, whether that's blowjobs, footjobs, facials, threesomes, lesbian fucking, titty fucking, hog slobbering, etc. You can download these videos in Windows Media Format and MPEG formats and store them on your computer as long as you want.
Now, with a site this large I usually expect very little in terms of bonus materials. I shouldn't have. Besides this site, the geniuses at Old N Fat Movies are going to give you access to more than 60 other hardcore porn sites! The niches an genres run the gamut from teens to trannys and with that many sites you're sure to find plenty of free fucking that's right up your alley. Overall I'd have to say I've not been so impressed by a mature porn site before. Two big thumbs up
Price: $39.95
Period: 30 days
Other Info : Tons of hot BBW and old movies, access to other niche websites, updated weekly